Whitworth Society Centenary Celebration - Autumn 2023
A special event was held in Liverpool on the 17th and 18th November 2023 in celebration of 100 years of the Whitworth Society.

Since being founded by Dr. Henry Selby Hele-Shaw in 1923, the society has provided a means for Whitworth Scholars to connect, as well as continuing to promote Sir Joseph Whitworth's vision of bringing Science and industry into closer relation with each other. The event was organised to recognise the benefit the Society has brought to those involved throughout the past century and included a visit to the University of Liverpool School of Engineering, a celebratory evening meal and a visit to Liverpool's World Museum. The event also included reflective talks by President Kevin Urquhart, Vice President Rachel Hoyle and past presidents Chris Sidney and Geoff Ward.

Website members can login to read a detailed account of the event written by 2016 Whitworth Scholar Rikki Jones, accompanied by photos from the event.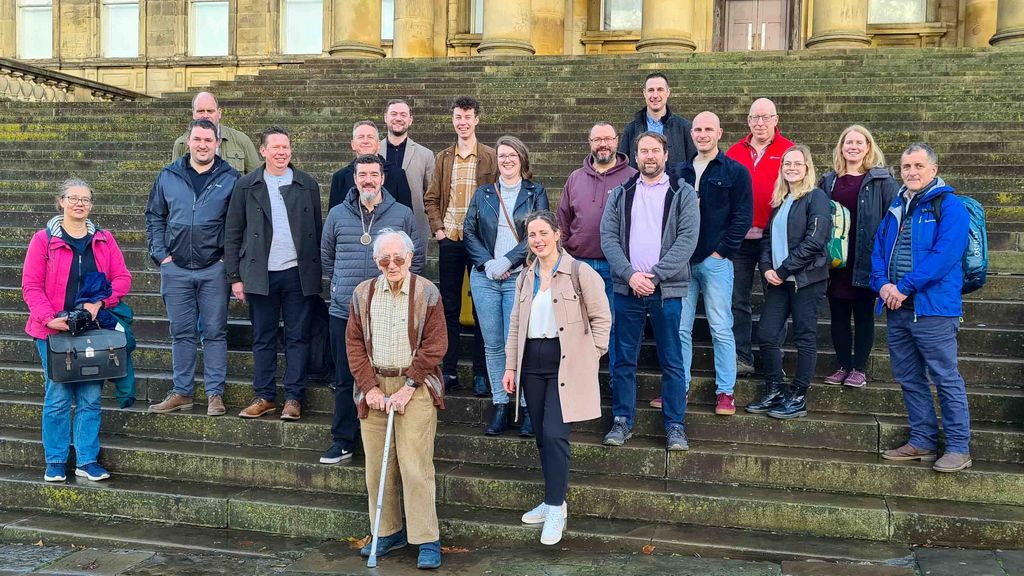 ---
Summer Meeting 2023
The video below contains highlights of the 2023 Summer Meeting hosted in Loughborough on the 6th and 7th July by Chris Sidney, Whitworth Society President 2022-23.


---
Visit to Discovery Museum Archives - May 2023
Kevin Urquhart visited Tyne and Wear Archives and Museums (TWAM) stores near Beamish Museum in May 2023 to view several items donated by the the University of Salford and The Whitworth Society to the
Discovery Museum, Newcastle upon Tyne
back in 1998
He was pleased to see the various Whitworth gauges and measuring machine were largely in good condition, but sad to find they are no longer on public display with no plans to rectify this. He is working on resolving this situation before the Whitworth Society summer meeting to be held in Newcastle next July.
Website members can login to read an account of the visit with images by Kevin.
---
2023 Commemoration Meeting
The 2023 Whitworth Society Commemoration Meeting took place on 17
th
March 2023, the day before the 155
th
anniversary of Sir Joseph Whitworth's letter to then Prime Minister Benjamin Disraeli, proposing a new engineering scholarship to combine practical experience and academic studies and thereby laying the foundation for the Whitworth Awards that those present gathered to celebrate.
Website members can login to read a detailed account of the event written by 2022 Whitworth Scholar Callom Parker, accompanied by photos from the evening supplied by David Clamp, Peter Whyman and Kevin Urquhart.
---
Whitworth Award Holders Lunch - 2023
The 2023 Whitworth Award Holders' Lunch was held on 10
th
February 2023 at Discovery Museum, Newcastle upon Tyne, with a hybrid Teams call running in parallel for those who could not make it in person. The event was hosted by the Whitworth Society Vice President Kevin Urquhart and supported by 2x Past President Brian Coaker and Society President Chris Sydney.
Website members can login to read a full account of the event written by 2022 Award Holder Katy Mosely, which is accompanied by photos from the day supplied by Kevin.
---
March 2018 - Scholars commemorate the beginning
On Friday, 16
th
March, 60 Whitworth Scholars, and honoured guests, met in the Library of the IMechE for dinner to commemorate 150 years of Whitworth Scholarships.
Scholars in attendance included the most recent 2017 Award Holders and Senior Scholars Prof. Francis Burrows Wh.F. (1953) and Dr Michael Wood Wh.S.Sch. (1953), plus former Whitworth Awards Committee Chair, Geoffrey Ward Wh.Sch. (1955).
The structure of the evening included a speech from Jon Hilton, former President of the IMechE, covering his career in engine design, Formula 1 and regenerative power systems.
Toasts were also made to the Queen, new Whitworth Award Holders and to the health of the Society, these are traditions that go back to 1923, when the Society was formed by Dr Hele-Shaw, former president of the IMechE.
Current president of the Society, Dr Howard Stone Wh.Sch. (2002), spoke about the Commemoration letter to the Prime Minister Mrs Theresa May, supporting press release and introduction of the hashtag
#Whitworth150
to commemorate this special year for all Whitworth Scholars. He also reminded the dinner guests of the audio interviews and videos with eminent Scholars that can be found on the Society website. Press resources for the Commemoration letter and interviews are available on the following
page.
---
Login to read more...
Registered users can login for more information and news. If you are a Scholar or an Award Holder and don't have an account please use the contact form to request one.
---